Remote work 'doesn't work' for younger staff, management, Jaime Dimon says
Comes as economic uncertainty increases concerns bosses could use return-to-office mandates as reason to let people go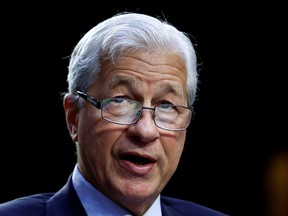 Article content
Jamie Dimon said working from home "doesn't work" for younger staff or bosses, the Wall Street titan's latest salvo against remote work.
Article content
We apologize, but this video has failed to load.
Remote work 'doesn't work' for younger staff, management, Jaime Dimon says
Back to video
"It doesn't work for young kids or spontaneity or management," JPMorgan Chase & Co.'s chief executive said in an interview with CNBC Thursday at the World Economic Forum in Davos, citing researching and coding as fields that can be done remotely. "There are jobs where it is reasonable."
Article content
Dimon's comments come amid an industrywide slowdown in finance and increasing signs of a recession, which has pushed big banks to slash bonuses, cut jobs and pause hiring. The economic uncertainty has increased concerns among workers across all industries that bosses could use return-to-office (RTO) mandates as a reason for letting people go, even as the broader job market remains strong. Dimon's reference to younger staff could heap additional anxiety on junior bankers, who are experiencing their first bad business environment.
Article content
Dimon also said remote work can "help women," given the caregiving duties that disproportionately fall upon them. "Modify your company to help women stay home a little," he said. Half of working mothers want to work remotely most or all of the time, according to an ongoing survey of more than 10,000 white-collar workers from the Future Forum, a research consortium backed by Salesforce Inc.'s Slack.
Along with Morgan Stanley chief James Gorman and Goldman Sachs Group Inc. chief executive David Solomon, Dimon has been one of the most vocal critics of remote work. Despite their comments, though, the heads of major banks have acknowledged recently that their workers are typically only in the office between three and four days a week. A few Wall Street bosses, like Citigroup's Jane Fraser, have been more accepting that working from home can benefit engagement and even productivity, saying recently that Wall Street's insistence on full-time office attendance feels dated. Still, even Fraser said this week that if a worker's productivity dips, they can expect to spend more time in the office.
Article content
In a separate interview on Bloomberg Television Thursday, Gorman said working five days a week in the office "won't happen again," and Dimon has previously allowed that about 40 per cent of his workforce will operate under a hybrid model, which includes days in the office and at home.
Recommended from Editorial
Hybrid-work models are by far the most popular approach for desk workers right now, according to ongoing surveys of tens of thousands of workers from WFH Research, a group that includes Stanford University remote-work guru Nicholas Bloom. For the week ending Jan. 11, office occupancy in New York City stood at 45.6 per cent of a pre-pandemic baseline, according to badge data from security firm Kastle Systems. That's no higher than levels seen in mid-September, a time when many organizations sent out fresh RTO mandates.
Article content
But with layoff announcements becoming more common, the flexibility that many white-collar workers have come to expect could be at risk in some sectors. Goldman has plans to axe as many as 3,200 jobs, although it will continue to hire selectively across the firm. Bank of America Corp. is putting a pause on hiring except for the most critical roles. Morgan Stanley has been "overdue" for right-sizing the workforce because it hasn't done much to pull back in recent years, Gorman has said. Still, the firm had also embarked on a fresh round of job cuts.
As those personnel moves shake out, Dimon's perspective on remote work could serve as a warning for those under him. "We shouldn't feed the squeaky wheel," he said. "You can go write your book and work at home."